About Conference
Allied Academies
organize a conference Biomedical and Clinical Research Conference during June 24-25, 2019 at Philadelphia, USA with theme "Emerging advancement in the field of biomedical research".
Allied Academies is one of the leading organizers and Open access publishers of international scientific events and conferences every year across Europe, USA and Asia. Allied Academies has organized 3000+ worldwide Events with over, 600+ Conferences, 1200+ Symposiums, and 1200+ Workshops on pharmaceutical company, Engineering, Technology, Science, Medical and Business with 700+ peer-reviewed open access Journals in basic science, health, and technology.
Biomedical and Clinical Research Conference
is for the gathering of Professors, researchers, clinicians, students of medicines and pharmacy, business tycoons and technocrats to display their recent research and talk about new thoughts, improvement and progresses in the field of biomedical, clinical Research, basic clinical research, pre-clinical research, biomedical engineering, biomedical instrumentation, advancement in treatment and diagnosis or relieving symptoms of diseases, present and future challenge of biomedical and clinical research, social and cultural aspect of biomedical research.
Welcome Message
Biomedicalresearch2019
heartily invites you to join our conference
Biomedical and clinical research
proceeds with theme "Emerging advancement in the field of biomedical research". The conference deals with re-emerging of Biomedical and clinical research; it provides a platform for refreshing your knowledge and forecast future developments in biomedical and clinical research. This conference will offer you a great opportunity to meet world's great scientists and researchers which explore your knowledge.
Biomedical and Clinical Research
Conference provide stage to unite the people from all over the world which have great interest in the field of biomedical and clinical research to boost our knowledge with recent research. A chance to go to the presentations conveys by eminent scientist. Business tycoons can position their company as a champion and encounter with new vendors and suppliers.
The participants shares their knowledge and view through abstract, posters, interactive keynotes and plenary session to discuss improving the new therapies and exploring new approaches and receive name recognition at this 2-day event.
Market analysis
Biomedical and medical research play a crucial role to find disease's symptoms, diagnosis, prevention and cure from common infection like common cold to lethal disease cancer which is important for human care. By advance treatment in drugs and invention of new devices it is possible to cure life threatening diseases. Many more researches are going on in this field.
Biomedical and medical research conference provides a platform for discussion on knowledge from all over the world researcher, so that new and effective treatment of fatal diseases should be known to everyone and it cured.
Another way to examine spending trends is to look at what share of the economy is devoted to health. In 1970 the U.S. devoted 6.9% of its gross domestic product to total health spending (both through public and private funds). By 2016 the amount spent on health had increased to 17.9% of GDP. Health spending as a share of the economy often increases during economic downturns and remains relatively stable during expansionary periods.
Hospital and physician services represent half of total health spending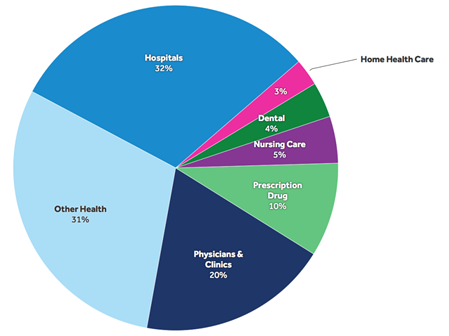 Hospital spending represented 32% of overall health spending in 2016, and physicians/clinics represent 20% of total spending. Prescriptions accounted for 10% of total health spending in 2016, which is up from 7% of total spending in 1970.
Philadelphia is that the largest city within the Commonwealth of Pennsylvania, USA. It's noted for its arts and culture. The town is that the centre of economic activity in Pennsylvania, and is home to the City of Brotherly Love exchange and a number of other Fortunes five hundred corporations. The city has a lot of out of doors sculptures and murals than the other city, and Philadelphia's Fairmount Park is that the largest improved urban park within the world. Major city attractions are Liberty bell, Independence Hall consist constitution and declarations of historic symbol of American independence were signed. Both are the part of independence National Historic Park. Outstanding art museums with classic pieces includes Rodin museum, Franklin institute Science Museum honouring life of Benjamin franklin. Nature lover can visit Philadelphia zoo, Dilworth Park, Philadelphia's magic garden.
Restoration of Philadelphia's neighbourhoods continues into the twenty first century and also the city has reversed its decades-long trend of population loss.
US pharmaceutical corporations spent $40 billion on R&D (research and development) within the USA and nearly another $11 billion on R&D abroad. Biomedical devices and material market is increasing at a remarkable rate due to increase of the extensiveness of diseases and growing government incentives in attention sector. Rising markets hold a wonderful potential for growth of biomedicine materials market. Innovation of some new merchandise with higher effectively is anticipated to provide smart probability for biomedicine materials market.
Associations of Biomedical in USA
•

National Association for Biomedical Research USA
•

American Association of Clinical Anatomists (AACA)
•

American Medical Association (AMA)
•

National Medical Association (NMA)
•

Alzheimer's Association
•

American Lung Association
•

American Diabetes Association
•

Muscular Dystrophy Association
•

American Heart Association
Global Associations of Biomedical
•

California Biomedical Research Association (CA, NV)
•

British Association of Clinical Anatomists (BACA
Funding agencies of Biomedical Research
The largest study up to now to try to quantify U.S. funding of medicine analysis by the pharmaceutical trade, government, and personal sources, researchers estimate that U.S. medicine analysis presently stands at concerning over $100 billion annually.
The pharmaceutical marketing is that the largest contributor towards funding analysis, funding over the government contributes to a couple of third of the prices, with foundations, support organizations and individual donors to blame for the remaining.
•

National Institutes of Health (NIH)
•

Department of Defence (DOD)
•

Department of Health and Human Services (DHHS)
•

Centres for Disease Control and Prevention (CDC)
•

Food and Drug Administration
•

Juvenile Diabetes Research Foundation International (JDRF)
•

Howard Hughes Medical Institute (HHMI)
•

Juvenile Diabetes Research Foundation
•

American Cancer Society
•

Cystic Fibrosis Foundation
•

The Leukaemia & Lymphoma Society
•

Multiple Sclerosis Foundation
•

Health Resources and Services Administration
•

Agency for Healthcare Research and Quality
•

Department of Education
•

Environmental Protection Agency
•

Agency for International Development
•

National Science Foundation
•

Department of Veterans Affairs
Future Goal and Challenges
Development and advancement in biomedical science in last few decades is remarkable.
Advancement in vaccination, antibiotics, surgery and medical devices provide success to get rid of fatal diseases. There is no limit in the field of biomedical science research of new drugs and development of new devices. Over the past centuries there are major benefits by biomedical research, like classes of antibiotics, vaccines for measles and tetanus, medication for blood presser (high or low), Improvement treatment for AIDS, new surgical technique such as microsurgery, increasing successes full treatment for cancer, as a result of Human Genome Project new beneficial test and treatments are expected.
Many more future challenges are still there to overcome antibiotic resistance, long diagnosis procedures, care, cause and prevention for newly identified diseases.
To get victory in all such challenges every ones support and collaboration is needed with some changes in previous system. These changes includes: Focus on Cost effective targets of drug or device, adopt realistic goals for research, private and public collaboration, adopt realistic new research goals, encourage public-private partnership, give preference in funding new research, bringing down the cost biomedical facility to consumers.